I did a literal jaw-drop when I first saw the term "open source data science master's". I'd been cautiously eying some of those data science boot camp thingies, thinking someday I might dip my toe in those watters, and then, WHAM, this tweet knocked my socks off (not literally this time).
Holy cow, that's brilliant. Who needs a degree these days when the info is readily available, we all learn better by doing anyway, and a portfolio is what folks want to look at? I'm already pretty good with data-sciency stuff just with creative googling and stack overflowing for my day job. Why not take it to the next level, fill in the gaps, and be methodical about my learning?
Plus, I can go at my own pace. I love my day job (most days), but my workload changes a ton from one day or week to the next, so fitting in a formal program would be tough.
Random segue to groupers
Groupers are an intelligent, delicious, often huge, and rather ugly fish native to Florida waters. I grew up eating them fried, blackened, and sandwiched - never giving a thought to where they came from. In the 80's, folks started realizing that grouper were declining and commercial fishing was reduced, first to groupers over 18", and then to those over 50" (which is mid-sized grouper - they can get to nearly twice that long). Currently, you can only recreationally fish for them, and only for some subspecies. Goliath groupers, the big ones, were listed as endangered until 2006 when they were considered improved enough to be of "least concern".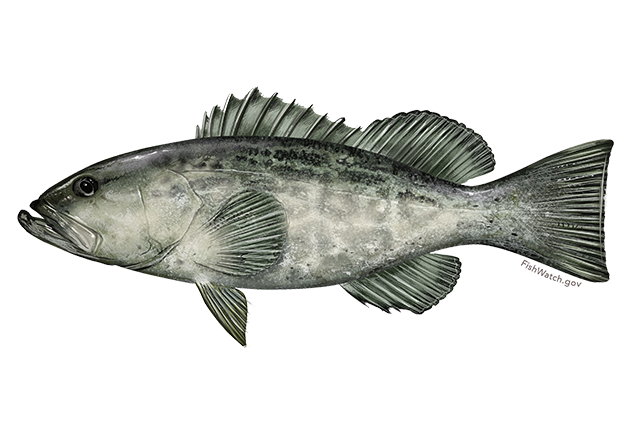 As a lover of grouper, I wanted to explore what we knew about their collapse and perhaps recovery. Am I contributing to the problem if I eat a grouper sandwich? Should I be starting a "save the groupers" campaign? I will dig more into this soon, but here's a first pass at commercial fishing takes of grouper in Florida.
library(ggplot2)
ggplot(groupers, aes(x = Year, y = Metric.Tons)) +
  geom_line(color = "dodgerblue", size = 1.2) +
  labs(title = "The collapse of commercial grouper fishing in Florida (1950 - present)", 
       x = "", 
       y = "Metric tons of groupers harvested", 
       caption = "Data source: Florida Fish and Wildlife
Conservation Commission") +
  theme_grey()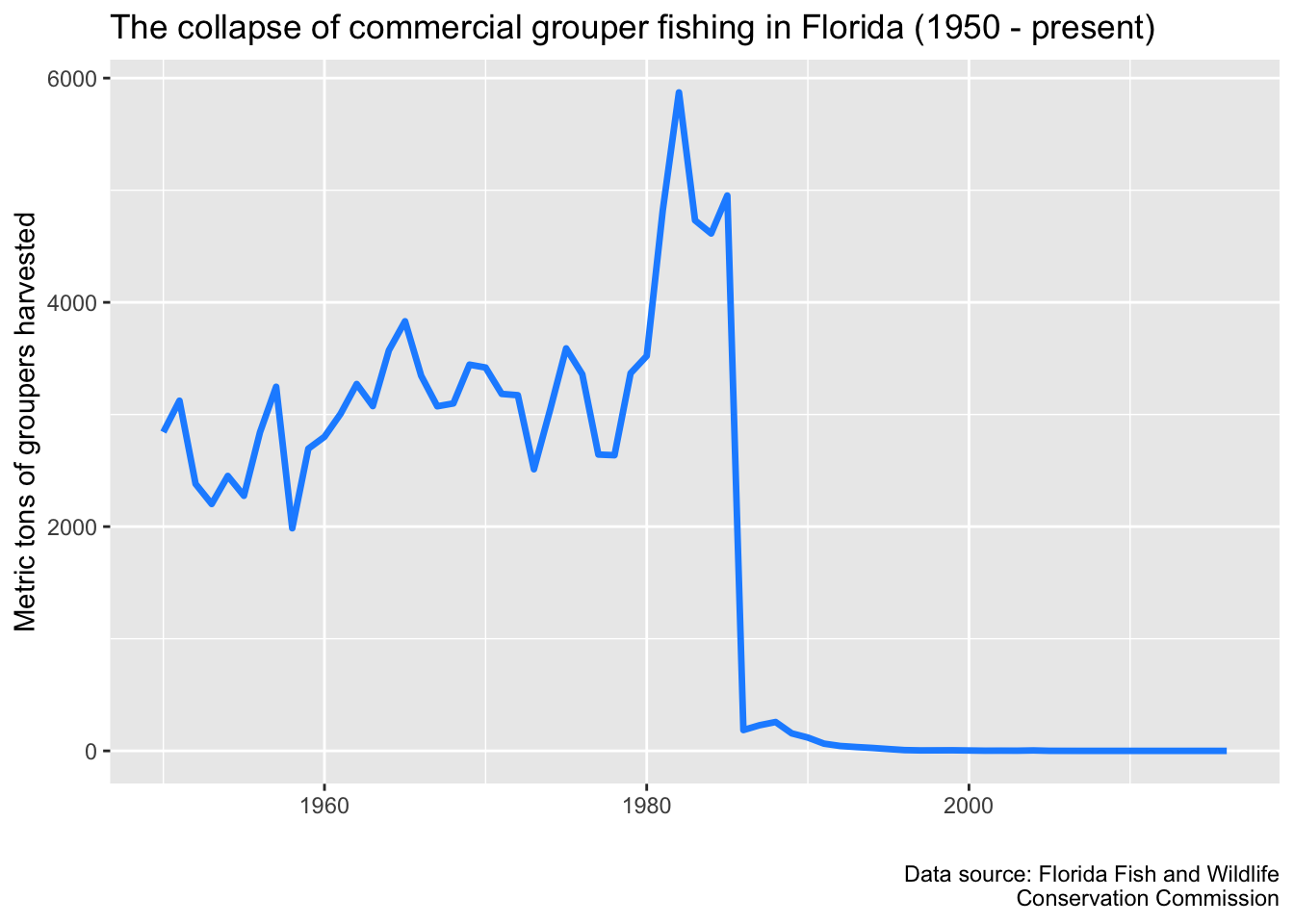 So, why the segue? Because this is a lovely example of where I'm at. It's a graph, with a title, and a clear point, but it lacks something. The graph doesn't stand alone, nor, perhaps, is it that interesting. I had to write a whole paragraph to pique your interest and provide context. Really, it is overkill for the sentence "we stopped commercially fishing grouper in 1986". Admitedly I didn't spend a ton of time on this, but…well…it shows. I'd love to improve this, make it more compelling. Maybe add a photo of a grouper, some helpful explanatory text (did the fishery collapse, or was it the regs that cause the decline in harvest in the 80s?), and overall make such a graph stand alone, be visually compelling, and get you interested in the saga of Florida's grouper. Where is it today? Can I eat a grouper sandwich at a restaurant guilt-free? There's a story there if I could just pull it out.
Back to my data science master's program…
I want to learn to tell stories with data, much like my heroes over at the Pudding and the Economist's Graphic Detail blog. I want to make my data communication better, whether that is making enlightening reports for my current job, giving riveting scientific talks, or branching out into some sort of science communication as a 2nd career.
I've been told that one of my talents in life is taking complicated things and making them simple. Yet, I haven't quite mastered the art of making them simple in the absence of me standing there explaining them.
Here's what I want to accomplish on my data science excursion:
Build a portfolio that culminates in some cool data storytelling (ala my heroes mentioned above)
Learn lots of new skills, like making graphs interactive
Explore some fun datasets and see what stories can be wrangled from them
So, stay tuned for how this program develops and how well I stay on (or off) the path.